Also on our mission in October this year reported the weekly Jedinstvo (unity). The article was published on 9th October, shortly after our departure.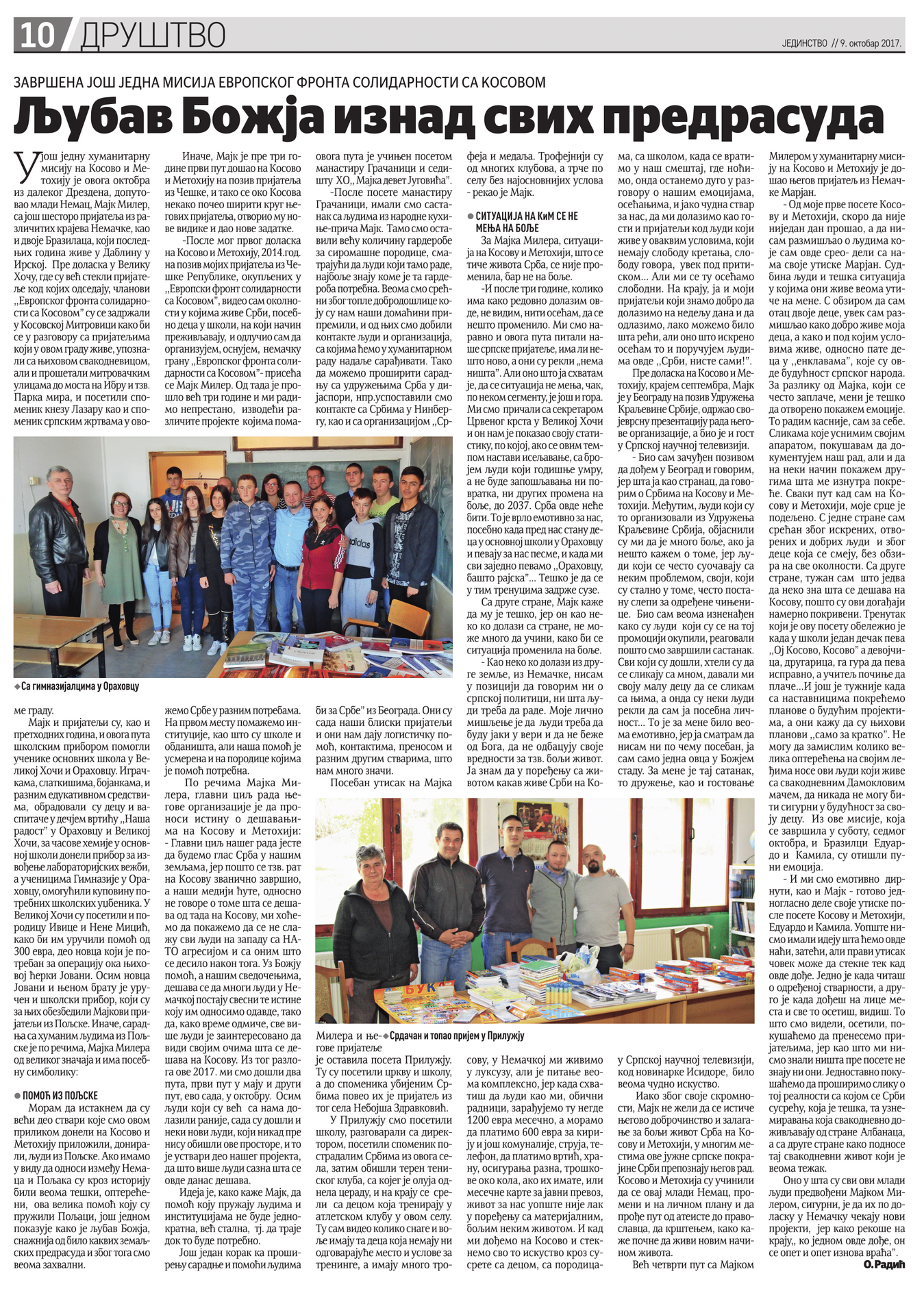 The love of God stands above all prejudices
For another humanitarian mission to Kosovo and Metohia this October from the far away Dresden the young German Maik Müller with six friends from different regions of Germany, as well as two Brazilians, who live for several years in the Irish city of Dublin, arrived.
Before arriving in Velika Hoča, where Maik Müller and his companions already have friends to stay with, the members of the "European Solidarity Front for Kosovo" spent some time in Kosovska Mitrovica. There, the group wanted to find out from the resident friends, what the everyday life in this place looks like and explored some streets of Mitrovica to the bridge over the Ibar and the so-called Peace Park. They also visited the monument of Prince Lazar and the monument of the Serbian victims from this city.
As in previous years, Maik and his companions also donated school supplies to the students of elementary schools in Velika Hoča and Orahovac. With toys, sweets, crayons and a variety of other gifts that are useful for infantile education, they brought great joy to the children and educators from kindergartens "Naša radost" in Orahovac and Velika Hoča. For the chemistry class at the primary school experimental laboratory kits were presented. High school students in Orahovac were able to obtain urgently needed teaching materials.
In Velika Hoča the family of Ivica and Nena Mičić was visited and handed over 300,- Euros as a donation. With this money, a part of the cost of eye surgery for their daughter Jovana can be paid. In addition to donating money, Jovana and her brother have also received school supplies that Maik's friends from Poland have presented.
The cooperation with humanitarian aid workers from Poland is, according to Maik Müller, of extraordinary importance and carries a special symbolism:
"I must point out that most of the donations we have made to Kosovo in this current mission, come from the people of Poland. If we consider that the relationship between the Germans and the Poles through history is still difficult and tense today, the great helpfulness of the people in Poland shows us, that the love of God is greater than any interpersonal, earthly prejudices and for this we are very grateful."
It should be noted that three years ago, Maik accepted the invitation of a Czech friend and visited Kosovo for the first time. In and around Kosovo, the number of his friends grew, which expanded his view of things and brought with it new tasks.
"After my first trip to Kosovo and Metohija, at the invitation of my Czech friends in 2014, who were already organized in the "European Solidarity Front for Kosovo", I have seen the conditions with which the Kosovo-Serbs must live. In particular, the fate of the children touched me, so that I founded the German branch of the "European Solidarity Front for Kosovo", remembers Maik Müller.
"Three years have passed since then, and we are working tirelessly to develop various projects to help the Kosovo-Serbs in many areas. First and foremost, we help for institutions such as schools and kindergartens, but also to people and families in need."
According to Maik Müller, one of the main motives of his organization is the transmission of the truth and the life situations that take place in Kosovo:
"The main purpose of our work is to be a voice of the Serbs in our home countries, because the so-called Kosovo war is officially over, but our media is silent, or not providing information on what is happening in Kosovo since the end of the war. We want to show that not everyone in the West agrees with NATO aggression and the ensuing events. With the help of God and our energy, more and more people in Germany are realizing the truth that we are sending directly from Kosovo.
Over time, more and more people in Germany are developing an interest in getting an idea of the situation on the ground. That's why we came twice this year (2017). The first time in May and now, in October, for the second time. In addition to the people who have already been here, we came again with new companions who were never before in this region. This is part of our project, by getting more and more people to know what is happening here."
"The idea is," says Maik, "that our help to institutions and people is long-term and not unique. As long as our help is needed."
Another step towards cooperation was made by visiting the Gracanica Monastery and the humanitarian organization "Majka devet Jugovića".
"After visiting the monastery, we had a meeting with the staff of the People's Kitchen" tells us Maik. "There we left a larger number of clothing donations to families affected by poverty – knowing that the people working there know best who is particularly affected. We are especially happy about the warm welcome and the contacts to other people and organizations that we have received. We will work with them on future humanitarian missions. I am also thinking of deepening cooperation with the Serbs in the Diaspora. Here we already had contacts to Serbs in Nuremberg and the organization "Serbs for Serbs" from Belgrade. We are working with them now and we get logistical help, contacts and other help from them, which means a lot to us."
A special impression on Maik Müller and his companions during this trip was the visit of Prilužje. There they visited the church, the school and were accompanied by their friend Nebojša Zdravković from this place to the local monument to the killed Serbs.
"In Prilužje we visited the local school, talked to the director, visited the monument o the killed Serbs from that place and, moreover, a tennis court whose tent roof was damaged by a hurricane. In the end, we visited the children from the athletics club and were able to marvel at their motivation, who did not have adequate training conditions, but won many trophies and medals", Maik told us.
The situation in Kosovo and Metohija does not get better
For Maik Müller, the situation in Kosovo is not changing, at least for the life of the Serbs. At least not for the better.
"Even after three years, I do not feel and do not realize that something has changed here. This is also confirmed by our Serbian friends when asked if there is something new. The usual answer is "nothing new". In some areas, the situation even worsens. In a conversation with the Secretary of the Red Cross in Velika Hoča, he showed us his statistical data, showing that there is constant dynamics of migration, the death rate and lack of employment prospects with related returnees and other factors that enable a normal life there, in 2037 no more Serbs will be found.
This touches us a lot, especially when we think of the children of the primary school in Orahovac, with whom we sang together songs. At such moments, it is difficult to hide his tears."
On the other hand, Maik finds it particularly difficult, that as an "outsider" he can not change much in the local life situation.
"As someone who comes from another country, like me from Germany, I do not feel in the position to debate Serb politics or what to do or not. My personal opinion is that people should remain strong in their belief and not distance themselves from God. People should not give up their values for a supposedly "better" life. I also know that in contrast to the Serbs in Kosovo we live in luxury, but the comparison here is also very complex. Because if you look at people like us, simple workers who earn somewhere around 1,200,- Euros and must raise 600,- Euros for the rent of a flat and other payments for additional costs such as garbage fees, electricity and telecommunications, as well as the kindergarten, food, various insurance, costs around the car, if there is one, otherwise the cost of monthly tickets of public transport, etc. – for us, life is not easy in the end as well, if you look at it on the material level.
And when we come to Kosovo and have all the experiences, from meeting children and their families, or going to the schools and then back to our hostel, we are left with a long conversation about our emotional impressions and feelings. In the end, it is always difficult for us to understand that as guests and friends we come to people who have to live here under these conditions, who can not move freely, who are not allowed to speak freely and who always have to live under great pressure, we can feel here, however, completely free.
In the end, my friends and I, who usually come and go here for about a week, can very lightheartedly say a lot. What I honestly feel, however, is what I tell people here, "you are not alone!""
Before traveling to Kosovo and Metohija, Maik in Belgrade accepted the invitation of the Association of the Kingdom of Serbia and held a lecture on the work of his organization. In addition, he was also a guest of Serbian science television.
"I was surprised by the invitation to come to Belgrade and give a talk there. For what should I as a foreigner talk about the Serbs in Kosovo? Meanwhile, the organizers of this presentation from the Association of the Kingdom of Serbia have explained to me that it would be better for me to contribute something to this topic, as people who are constantly dealing with one and the same problem would one day go blind. I was very surprised at the reaction of the people who attended the event. At the end of the event, everyone who was there, wanted to take a picture with me, put their children in my arms to take photos together, and some people said I was a special person. This has been very touching for me, because I do not see myself in any way as someone special, but only as a sheep in the flock of God.
For me, this event, the friendly meeting there, as well as the appearance on Serbian science television, with the journalist Isidora, was a very unreal experience."
Although Maik due to his modesty does not want to boast with its benefits and its entry for better living conditions of Kosovo-Serbs, people in many places in the Serbian enclaves encoding and know exactly what Maik does for them. Kosovo has changed the life of this young German in a lasting way, for he has traded the path of an atheist for that of a Christian of orthodox faith. With his baptism, he has recently embarked on this new way of life.
For the fourth time, Maik's friend Marian from Germany accompanies the mission of the European Solidarity Front for Kosovo.
"Since my first visit to Kosovo, almost no day has passed when I did not think about the people I met here," Marian tells us, adding: "the fate of the people and the difficult situation in which people live affect me. Since I have two children myself, I often thought about how well my children live and under what circumstances the children have to live or suffer in the Serbian enclaves. At the same time, these children are the future of the Serbian people.
Unlike Maik, who lets his tears flow, I find it hard to let my emotions run wild. This usually happens later, in the quiet little room. I try to document our work with the pictures I take with my camera, but I also try to show other people what moves me inwardly.
Every time I am in Kosovo, my heart is divided. On the one hand, I am happy with the honest, open and warm people and about the children who laugh, despite all the circumstances. On the other hand, I am very sad that hardly anyone knows what is happening in Kosovo, as these things are deliberately kept under wraps.
One moment that shaped this journey was when the children in the school sang the folk song "Oj Kosovo, Kosovo" and a girl nudged her classmate to sing the song properly and the teacher began to cry. And it was even more sad when we wanted to talk to the teachers about our plans for the next projects, but they told us that their plans could only last for a very short time.
I can not imagine what burden these people will have to bear if they have to live with the daily sword of Damocles over their heads, that they can never offer their children a secure future."
When the mission ended on Saturday, October 7th, the two Brazilians Eduardo and Camilla also left full of emotion.
"We too have been touched emotionally, just like Maik." Almost unanimously, the two share their impressions of this trip to Kosovo: "We had no idea what we would find and encounter here. You only get a real impression of it when you come here. It's the one thing to read about, but something different when you see something with your own eyes. What we have seen and felt, we will try to convey to our friends. Because what we did not know before we were here, they do not know either. We are simply trying to share the image that we have taken from reality here, the difficulties of the Serbs in Kosovo, the constant pressure from the Albanians. On the other hand, we would also like to share how the Serbs endured the hard life there."
What all the young people around Maik Müller believe in is that when they return to their home countries, new projects await them, because, as they said in the end, "whoever was here comes again and again."
Olivera Radić