On 25th of October 2018 the daily Sremke Novine reported about our this years mission: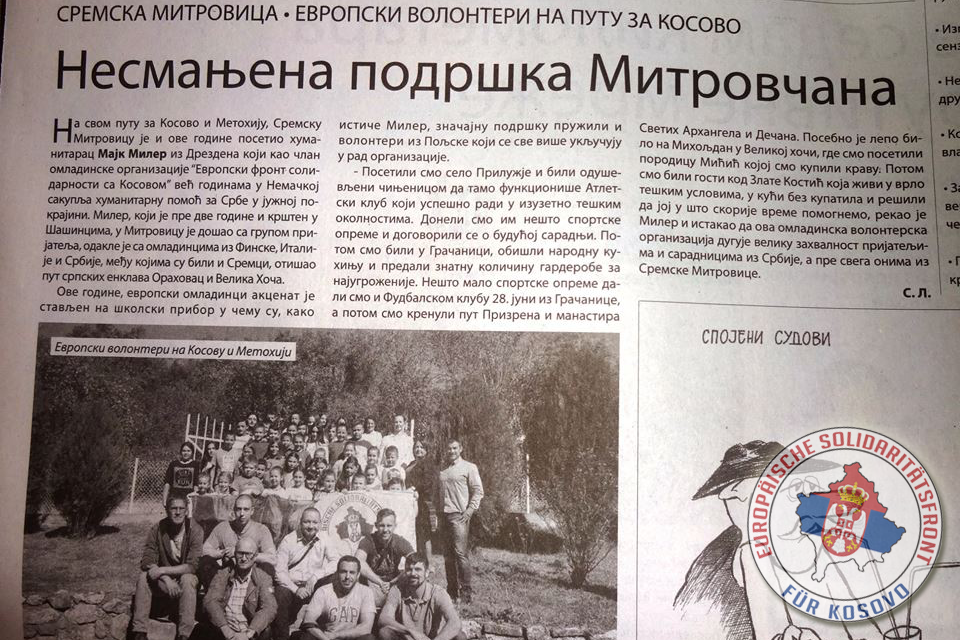 From Srem to Kosovo
Sremska Mitrovica – On the way to Kosovo and Metohija, Sremska Mitrovica was visited by humanitarian Maik Müller from Dresden this year, who as a member of the organization "European Solidarity Front for Kosovo" has been collecting humanitarian aid for Serbs in the southern province for years in Germany. Müller, who was baptized two years ago in Šašinci, came to Mitrovica with a group of friends, from where he traveled with the youth from Finland, Italy and Serbia, the path to the serb "enclaves" Orahovac and Velika Hoča.
This year, the accent was placed on school supplies, which, as Müller points out, considerable support was also provided by volunteers from Poland who are increasingly involved in the work of the organization.
– We visited Priluzje and were delighted with the fact that there is an Athletic Club functioning there successfully operating in extremely difficult circumstances. We brought them some sports equipment and agreed on future cooperation. Then we went to Gračanica, went to the national kitchen and handed out a considerable amount of clothing for the most vulnerable. We also donated some sports equipment to the Football School "28th June" from Gračanica, and then we started the path to Prizren and the monasteries of the Holy Archangels and in Dečani. It was especially nice at Miholjdan in Velika Hoča, where we visited the Mićić family where we bought the cow. Then we were guests at Mrs. Zlata Kostić, who lives in very difficult conditions, in a house without a bathroom, and decided to help her in the near future, said Müller, and emphasized that this youth volunteer organization owes great gratitude to friends and associates from Serbia.
S. Lapcevic